Commercial Pressure Washing in Reno, NV
Have you been searching for power washing or pressure washing services in Sparks, NV? Knight Parking Lot Sweeping and Pressure Washing has the solution for you.
We understand that, as a business owner, your priority is to keep up with the appearance of your building. This has an impact on the way customers feel about your business.
Our team can eliminate stains and dirt that may otherwise deter customers.
The Benefits of Power Washing
Increase/Maintain Property Value
The last thing you'd want to do as a business owner is appear as if you are struggling. A filthy building exterior is the first thing people pay attention to. It could either make or break your business. Regular parking lot sweeping and pressure washing your building can help increase and maintain your property value. It is essential to have a building that is well-maintained and spotless to make a good impression. This says that your business actually cares about the way other people look at it. Furthermore, if you ever decide to put your commercial property up for sale, frequent pressure washing can help you maintain its value, so it's at its highest value when you are ready to put it on the market.
Eliminate Graffiti
A commercial building that is filled with graffiti is not only unattractive but can easily reduce its property value. Sometimes, the right type of graffiti is seen as art. However, the wrong type of graffiti is a breeding ground for more of it. Pressure washing eliminates graffiti. It sends a clear message to vandals that their graffiti will simply be removed.
Enhance Curb Appeal
Curb appeal is extremely important for all businesses. Having an attractive curb appeal entices customers to want to walk through your door. It makes them curious in a good way. It also sends a message to customers that you take your business seriously.
Eliminates Pests
Outdoor pests can easily make their way through cracks and crevices when a building isn't properly cleaned. It is possible that your building may have accumulated dirt and cobwebs that are difficult to eliminate. You may also have bird droppings on your outdoor walls and windows. The good news is that frequent pressure washing and power sweeping with Knight Parking Lot Sweeping and Pressure Washing can eliminate pest remains and get rid of pests altogether.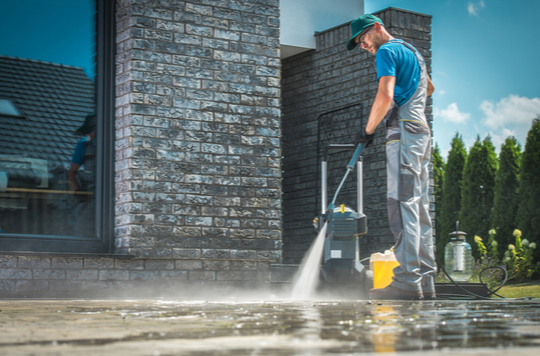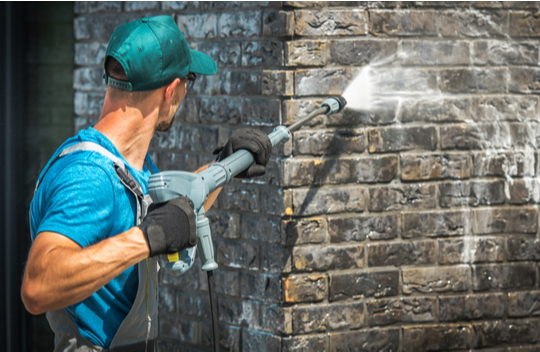 Risks of Not Keeping up with Building Maintenance
Pricey Repairs
Failure to keep up with your building maintenance can result in many issues that can be costly for your business. The best way to prevent future problems is by eliminating them early on.
Health Risks
Mildew and mold can easily grow on the exterior of your building, which can pose a health hazard to yourself, your employees, and your customers. Proper and frequent pressure washing and maintenance can eliminate the growth of mold and mildew.
Reduction in Productivity
The fastest way to disrupt the flow of your business is to avoid keeping up with maintenance. Frequent and routine maintenance and pressure washing can keep employees motivated. Contact us and our team at Knight Parking Lot Sweeping and Pressure Washing for a quote today.