Pressure Washing Services in Reno, NV
When you need a professional to maintain your property with cleanup and sweeping in Reno, Hidden Valley, Lockwood, or Sparks, NV, choose the best with Knight Sweeping Inc. Our professionals bring decades of experience to the industry and offer the highest level of cleanup for commercial, industrial and retail properties. As the best in local family-owned pressure washing companies, we appreciate the pride you take in our pressure washing company and do our part to contribute to the upkeep of your lot. Every detail matters, so we bring the same level of attention to every aspect of its maintenance, including sweeping and pressure washing services in Reno, NV.
Whether you are a private owner of a small lot or a large corporation that oversees multiple properties, we can service your needs. Our clients range in size, demands and schedules, but we're able to accommodate them all by employing a professional and responsive staff whose number one priority is the satisfaction of our clients. Choose only the best in sweeping and pressure washing companies for your property maintenance, and we can come by on a daily, weekly, monthly or even yearly basis to provide power washes and parking lot sweeps in Reno, NV. We're certain you'll be satisfied with the level of service you provide.
Customers contact us in Reno, Sparks, Hidden Valley, and Lockwood, NV, because:
We provide comprehensive cleaning solutions for commercial and industrial lots.
We service clients of all sizes from private owners to large corporations.
We bring nearly 30 years of experience to the business.
We are a family-owned and operated pressure washing company.
Our prices are competitive and fair.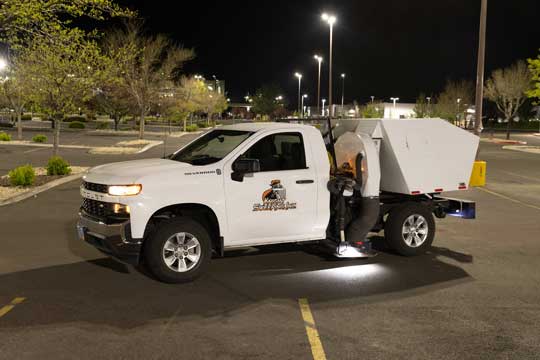 Contact Us
Knight Sweeping Inc. provides commercial, industrial and retail clients of all sizes with simple cleaning solutions. From parking lot sweeping to power and pressure washing services and street sweeping, we bring the highest quality cleaning service to your business, ensuring your property is professionally maintained.